CurrencyFair money transfer review
With a low flat transfer fee, a peer-to-peer exchange, and a multi-currency account on offer, CurrencyFair is a serious contender for your business. Find out if it's right for you in our review.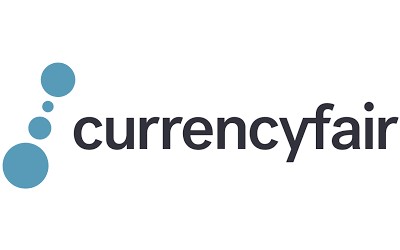 The breakdown
CurrencyFair has a low flat rate of $6 for transfers to all currencies, no matter how much you're sending.
The Currency Fair Exchange lets you set the exchange rate you want for your transfer and wait until it's matched by another user sending the opposing currency.
At approximately 20, CurrencyFair doesn't offer transfers to as many currencies as its competitors so be sure to check if you need to transfer to a more exotic currency.
Add a header to begin generating the table of contents
Current CurrencyFair promotions and deals
Refer a friend
CurrencyFair has an appealing refer-a-friend programme that rewards you for sending new customers to the service.
If you refer someone to CurrencyFair you'll get $50 as a reward. Better still, your friend will get $50 too. You'll both be paid once your friend transfers a total of $2,000.
CurrencyFair exchange rate and fees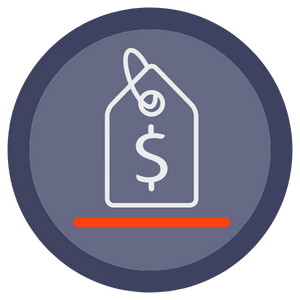 CurrencyFair offers a substantially better rate than the banks and is certainly competitive with other money transfer services. CurrencyFair states that, on average, customers pay 0.49% to transfer money abroad, including fees.
Through CurrencyFair's exchange service, you may be able to get an even better deal by choosing a better exchange rate and waiting for it to be matched by another customer who wants to make the opposing currency exchange.
Fees
CurrencyFair has a low flat rate of $5 that applies to all transfers, no matter how large or small. As with all flat-rate transfer fees, this means you get better value (relative to the amount you're sending) with larger transfers.
For example, a flat fee of $5 means for a transfer of $100 you'd be paying an additional 5% in fees. However, if you were transferring $1,000, the transfer fee would account for 0.5% of the amount transferred.
Remember: fees are just one way in which you can be charged for sending money — don't forget about the margin most transfer services add to the exchange rate. Learn more in our guide to international money transfers.
Supported currencies
CurrencyFair allows you to transfer money to over 150 countries worldwide to around 20 currencies.
The selection of currencies is not as large as some other money transfer services, which may not be a problem for you if the currency you want to convert to is on the list. However, if you want to transfer money to currencies including the Indian rupee or Argentine peso, you should look elsewhere.
Available payment methods and speed
CurrencyFair has one payment option for sending money abroad — bank transfer. This is the most common payment method for all transfer services and the one that involves the lowest costs for both the company and you as a consumer.
Bank transfer payments are fine for the large majority of people, although some may prefer other options, such as POli or debit card, even if it does come with a larger fee.
The time it takes to complete a transfer with CurrencyFair will range from a matter of a few hours to a few days. Same-day transfers are possible on major currencies such as GBP and AUD.
Remember that the time it takes to complete your transfer will also depend on which day you send it. In most circumstances, international money transfers can only be completed during business days, so sending your money on a Friday evening means the earliest it's likely to reach your recipient's account is on their Monday.
What's special about CurrencyFair?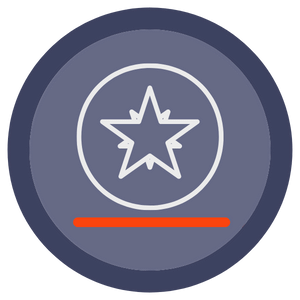 Currency fair has a number of features that make it a little different from other transfer services and you may find they're important to you.
CurrencyFair Exchange
The CurrencyFair Exchange is a peer-to-peer marketplace where users trade with each other, rather than with CurrencyFair.
The main benefit of this is being able to choose an exchange rate at which you want to complete your transfer. When (and if) someone who wants to exchange the opposite currency matches your set rate, your transfer will be complete.
This can be a great way to get a better rate on your transfer, but it's unlikely to be as quick as transferring directly with CurrencyFair so it may be more suitable if you need to make a one-off, large transfer and you're not in a rush.
You can also choose to browse the exchange rate queue for rates requested by other users and pick the one that works for you.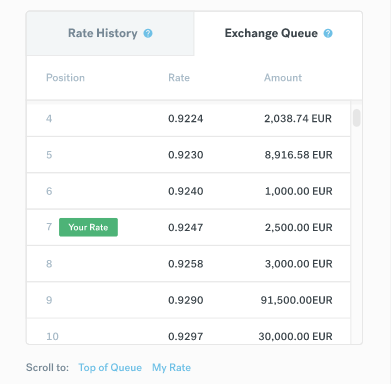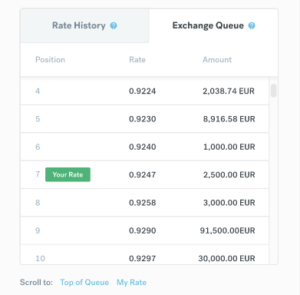 Refer a friend
If you're keen to save or make money through your money transfer service, CurrencyFair has a refer-a-friend programme that might appeal to you.
The programme works like this:
Once you are registered you are provided with a referral link that you can share with others or anyone you like.
If someone signs up for CurrencyFair using your link, they become one of your referrals.
If your referral sends at least $2,000 (over multiple transfers is fine), you'll both receive $50.
Multi-currency account
If you regularly transfer money between different currencies (paying bills abroad, managing property, or receiving pension payments, for example), a multi-currency account might make sense for you.
A multi-currency account lets you not just transfer but also store different currencies in a single account. You can hold approximately 20 currencies in the multi-currency account and can transfer from and to more than 150 countries.
Is CurrencyFair safe?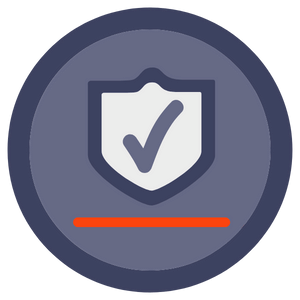 CurrencyFair makes a point of highlighting how seriously it takes security and states that it has transferred more than the equivalent of €10,000,000,000 securely to date.
The company employs a number of key security features, including:
2-factor authentication to ensure high-level account security
256-bit encryption via SSL to protect your connection when logged into your CurrencyFair account
Thorough verification through account verification, automatic account logouts, and the verification of contact information if it's ever changed.
CurrencyFair is not regulated in New Zealand, but it is regulated in:
How to transfer money with CurrencyFair
Interested in CurrencyFair? We take you through each step you need to set up an account and send money with the transfer service.
Go to the CurrencyFair website: From the homepage, click the sign 'Sign up' button in the top right-hand corner.
Choose your account type: Pick either a personal or business account. On the same page you'll need to enter your email address and create a password for your account.
Provide your personal details: You'll then need to provide your name, country of residence and the main reason you'll be transferring money through CurrencyFair. You'll then be prompted for your contact details (including your phone number) and asked to answer a few basic questions about how you'll use your CurrencyFair account.
Set your transfer: Enter how much you'd like to transfer. You'll see how much your recipient will receive, the exchange rate you'll get on your transfer, and the fee you'll pay.

Verify your identity: You'll then be prompted to verify your identity by uploading a recognised photo ID. The photo page of your passport or an image of your driver's licence is fine. At this stage you'll also need to provide proof of address.
Add your recipient's details: Next you will need to enter the bank details of your recipient. The bank information required varies from country to country, but you can find the required bank account details for some of the most common countries in our guide to transferring money abroad.
Send your money to CurrencyFair: You'll be provided with CurrencyFair's bank details for you to make an online transfer. Before you complete your transfer you'll have the opportunity to check all the details and make sure everything is correct.
Track your transfer: CurrencyFair will email you once your transfer has been completed, or you can track the progress of your transfer through your CurrencyFair account.