eSIM is the next generation of the humble SIM card we've been slotting into our mobile phones for years. We explain what it's all about and which NZ networks support it.

The breakdown
eSIM lets you to have multiple data plans on a single device.
One NZ (formerly Vodafone) became the latest provider to offer eSIM support in late 2022, joining Spark and 2degrees.
Devices that have eSIM functionality include the newest Apple, Samsung and Oppo phones.
Add a header to begin generating the table of contents
The advent of eSIM may revolutionize the way phones connect to service providers. 
We take a look at what this means for you, how you'll benefit as a consumer, and how widely available eSIM is in New Zealand.
What is eSIM?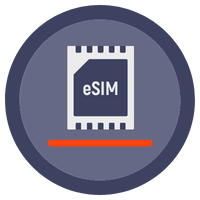 An eSIM is the more technologically-advanced cousin of your little plastic SIM card.
For years, that card has played a crucial role in how mobile phones work. Without it, your device wouldn't know which service provider to connect to and telecommunication carriers wouldn't know which phone to provide their service to.
Officially called an 'embedded subscriber identity module', an eSIM does everything a physical SIM card does. However, while a SIM card is a removable piece of tech, an eSIM is embedded in your phone and cannot be removed.
But eSIM isn't just available in phones. As it's basically a chip like any other, it can also be used in laptops, tablets, smartwatches, and more.
The benefits of eSIM
You've probably never stopped to think about how a physical SIM card work. So why would you care about eSIM?
Well, eSIM has quite a few advantages for you as a consumer. Here are three ways eSIM could benefit you and have you making the switch to eSIM.
It's easier to switch providers
You've likely come across better mobile plans than your current one in the past, whether you're on a contract or pay-and-go. But how often have you followed through and made the switch?
Going into a shop, talking to an attendant, fiddling around with a pin and little piece of plastic — these are all barriers to switching providers. And while it shouldn't stop us from seeking out a better deal, it can often seem like too much of a hassle.
However, eSIM means that none of this is needed anymore. With an eSIM, it's possible to switch providers with a few clicks in your phone's settings and a scan of a QR code provided by your new service provider.
Signing up with a new provider or leaving your old one can all be done from the comfort of your phone, making switching mobile plans much more accessible.
Multiple phone numbers on the same device
Another big benefit of eSIM is that they can support multiple service providers (known as 'profiles') at the same time.
This could mean it's no longer necessary to have a personal and a work phone. Instead, you can use the same device as a work phone during office hours, then switch to your personal profile at the end of the work day.
With the press of a button, you can switch to a different phone number and mobile plan without having to change your device.
Unfortunately, for most phones, it's not possible to have different eSIM profiles active at the same time. For example, if you receive a call to profile 1 while profile 2 is active, you won't get that call. The only exception to this at the moment is the iPhone 13 which allows for two different eSIM profiles to be active at the same time.
However, all eSIM-capable phones do allow you to have an eSIM profile and a physical SIM card/profile to be active at the same time.
eSIM makes travelling easier
One hassle of arriving in a new country is getting a local SIM set up on your phone.
One of the first things many of us do at a new airport is to look for a phone shop that offers reasonably-priced mobile plans. eSIM means this will be a thing of the past.
With an eSIM, setting up a local connection is just as easy as connecting to a service provider at home. In fact, you can even set up your profile with a service provider while you are in New Zealand, meaning you can simply switch profiles when you land.
Which phone networks support eSIM?
There are 3 New Zealand service providers offering eSIM right now.
Spark
As the first mover in this space, Spark has been supporting eSIM-compatible phones in the New Zealand market for the longest. Spark launched the service in 2019 for personal use, while corporate customers were given access in early 2022.
Spark also supports eSIM through wearable plans such as its 'One Number Wearable Plan' for Apple watches, and the 'Endless Wearables Plan' for Samsung watches.
Note that Spark cannot guarantee its eSIM service will work on devices not bought directly from Spark.
Learn more about Spark's eSIM support, including how to set up a device with eSIM, on its website.
2degrees

Another of New Zealand's major local service providers, 2degrees also offers support for eSIM-capable devices.
As of early August 2022, 2degrees customers have access to the eSIM feature on certain mobile devices with set-up simply requiring the scanning of a QR code.
Like Spark, 2degrees supports eSIM for both business and private customers. However, unlike Spark, 2degrees does not support eSIM for wearable tech such as smartwatches yet.
Find out more about the 2degree's support for eSIM on its website.
One NZ

One NZ (formerly Vodafone) teased eSIM support for a while, but only started supporting the technology in late 2022. 
At the moment, the provider lets you connect your phone or laptop through eSIM, but support for smartwatches is promised at some point in 2023.
You can buy an eSIM for a pay monthly plan right now, either online or in a One NZ store. If you're already with the provider and you want to switch to eSIM, just visit your nearest One NZ store and bring a current photo ID, such as a driver's license.
Learn more about One NZ's eSIM support on its website.
Can I use eSIM on my device?


Although the technology has been around since 2017, eSIM functionality has not yet become the standard among all new phones and devices
New Zealand consumers that have more recent models of iPhone, Samsung, Huawei and Oppo devices will be the most likely to benefit from eSIM.
Here's a closer look at some popular phone models available in New Zealand that are eSIM capable:
Samsung Galaxy S20 and onwards, with the exception of FE models, plus Note 20 (including Ultra), as well as any Fold and Flip models
Oppo Find X3 Pro and onwards
All iPhones from the 11 onwards (including iPhone SE 2020, SE 2022, XS and XS Max)
Huawei P40 Pro onwards.
The following wearables and tablets also have eSIM technology:
iPads later than Air/Pro third generation, iPad Mini fifth generation, and iPad seventh generation
Apple Watch Series 3 and onwards
Samsung Galaxy Watch 4G and onwards (only cellular models)
Bear in mind that currently only Spark supports eSIM for wearables, but Spark, 2degrees, and One NZ support iPads.