Wise (TransferWise) review
Using a competitive mid-market transfer rate and a transparent fee structure, Wise is one to consider for your next money transfer. 
Add a header to begin generating the table of contents
Wise uses the mid-market rate
Wise uses the mid-market rate so you can be sure you're getting a great exchange rate, no matter which currency you're transferring your New Zealand dollars to.
What is the 'mid-market rate'?
The mid-market rate is the middle point between the wholesale buy and sell rates for a particular currency pair (for example, New Zealand dollars and US dollars).
It's the rate you see when you Google the exchange rate between two particular currencies and the rate banks use when trading between each other. This is why it's also known as the interbank rate.
You may assume this is the rate you get when you make an international money transfer, but with most transfer services this isn't the case as they add a margin on top of this mid-market rate. However, Wise does use this mid-market rate so you can have more confidence in the rate you're getting.
Remember that, as with all international transfer services, there are fees involved.
Fees
Wise charges two types of fees on each transfer: a fixed fee and a variable fee.
Its fixed fee is named so because it's a flat fee that's the same no matter how much you're transferring, whether that's $100 or $10,000. However, it does vary with currency so, for example, the fixed fee for transferring NZD to AUD at the time of writing is $0.39.
This fee also doesn't vary with the payment method you choose, with the exception of POLi payments, which do incur a higher fee.
Wise's variable fee is charged as a percentage of the amount you transfer and so you will face a higher variable fee if you're transferring a larger amount than if you're transferring a smaller amount.
You pay both a fixed fee and a variable fee for each transfer. Here is what the fees looked like for transferring $1,000 NZD to AUD at the time of writing (17 May 2023):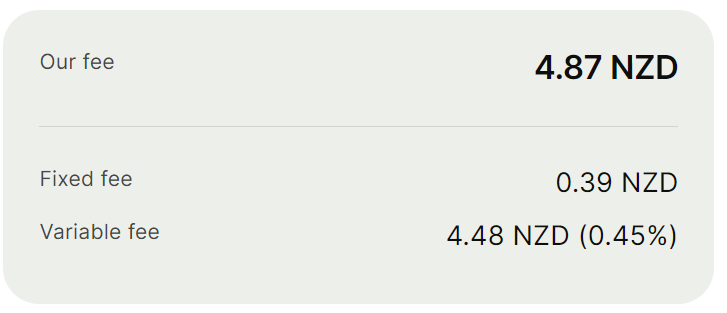 Supported currencies
With Wise you can transfer money to 80 countries in any of the following 54 currencies:
Argentine peso

Australian dollar

Bangladeshi taka

Botswana pula

British pound

Bulgarian lev

Canadian dollar

Chilean peso

Chinese yuan

Costa Rican colón

Croatian kuna

Czech koruna

Danish krone

Egyptian pound

Euro

Georgian lari

Ghanaian cedi

Hong Kong dollar

Hungarian forint

Indian rupee

Indonesian rupiah

Israeli shekel

Japanese yen

Kenyan shilling

Malaysian ringgit

Mexican peso

Moroccan dirham

Nepalese rupee

New Zealand dollar

Nigerian naira

Norwegian krone

Pakistani rupee

Peruvian sol

Philippine peso

Polish złoty

Romanian lei

Russian ruble

Singapore dollar

South African rand

South Korean won

Sri Lankan rupee

Swedish krona

Swiss franc

Tanzanian shilling

Thai baht

Swiss franc

Tanzanian shilling

Thai baht

Turkish lira

UAE dirham

Ugandan shilling

Ukrainian hryvnia

Uruguayan peso

US dollar

Vietnamese dong

West African franc

Zambian kwacha
Available payment methods
With Wise you can transfer money using 4 payment methods. We give you an idea of how much you can expect to pay in fees with each method, and how long each takes to complete.
Bear in mind that the speed it takes to complete a transfer is affected by the business hours held in the country you're transferring money. This means that choosing a payment method with a higher fee does not always mean that your money will get to your recipient faster.
Bank transfer
The bank transfer payment option is the cheapest way to send money with Wise and will be the best option for most people. However, it's a little slower than the other options available.
A bank transfer can take between a couple of hours and the next business day for the money to reach your recipient.
We set up transfers of $1,000 New Zealand dollars to 3 countries using bank transfer as the payment method and these are the fees we were quoted. All fees are in NZD.
| Country | Australia (AUD) | India (INR) | United Kingdom (GBP) |
| --- | --- | --- | --- |
| Total fee | $4.87 | $6:45 | $5.07 |
POLi
Transferring money using the POLi payment method will get your money where it needs to go faster, but you will pay a higher fee for the speed.
As POLi payments can potentially reach your recipient within seconds, although it may take until the next business day.
We set up transfers of $1,000 New Zealand dollars to 3 countries using POLi as the payment method and these are the fees we were quoted. All fees are in NZD.
| Country | Australia (AUD) | India (INR) | United Kingdom (GBP) |
| --- | --- | --- | --- |
| Total fee | $7.22 | $9.41 | $7.41 |
Debit and credit card payments
Both credit and debit card payments incur the same fees and transfers using this payment method take the same time to complete.
International money transfers using a debit or credit card as the payment method are significantly more expensive in terms of fees. They also take the same amount of time as a POLi payment to complete — from a matter of seconds to the next business day.
We set up transfers of $1,000 New Zealand dollars to 3 countries using either debit card or credit card as the payment method and these are the fees we were quoted. All fees are in NZD.
| Country | Australia (AUD) | India (INR) | United Kingdom (GBP) |
| --- | --- | --- | --- |
| Total fee | $19.38 | $21.50 | $19.59 |
What's special about Wise?
Wise stands out from a lot of its competitors for a number of reasons.
Multi-currency account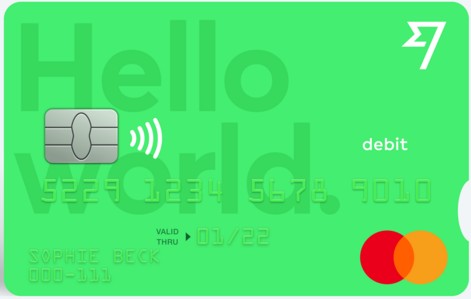 Wise also offers a multi-currency that lets you store, send and receive payments in a number of different currencies.
The account includes a Wise debit card that works like your bank debit card and can be used in over 200 countries around the world. The Wise debit card includes no transaction fees for purchases made in other currencies, a feature very few other NZ credit or debit cards offer. Learn more about the multi-currency debit card on the Wise website.
Wise's multi-currency account can be especially useful for frequent travellers, those who purchase regularly from overseas shops, and those who own and manage properties in other countries.
Transparency
Wise is one of the most transparent international money transfer services out there.
With a lot of (but not all) transfer services, you have to register with the company for a quote to find out how much a transfer will cost you. On Wise's homepage you can find out exactly how much it will cost you to complete your transfer without having to provide any details.
Wise is also very clear about how much it charges in fees for each type of transfer so you don't have to trawl through its website or get in contact with them to find the information you need.
Refer-a-friend
With Wise's Invite program you can refer friends to transfer their money with Wise. If they accept the invitation, their first transfer (up to an equivalent of £500 GBP) will be fee free.
You can also benefit from a cash reward for recommending people to Wise, although exactly what this reward is for depends on which reward program Wise assigned to your account when you signed up.
If you already have a Wise account, you can find out what Wise reward program you're a part of when you log in to your account.
Is Wise safe?
Yes, you can have confidence your money is safe with Wise. The company is regulated in countries around the world, including:
See the full list of locations where Wise (formerly TransferWise) is regulated and how on the Wise website.
Wise also uses 3D Secure for greater security in making online payments. Wise also uses 2-factor authentication (or what it calls a 2-step login) to improve the security of accounts.
How to transfer money with Wise
From setting up and verifying your account, to making your first international transfer, we break down all the steps to sending money with Wise.
Get started: Visit the Wise website and select the 'Register'.
Enter your details: Enter your email address and select if you want a personal or a business Wise account.
Verify your phone number: You'll then have to enter your country of residence and your phone number. Wise still then send you a 6-digit security code which you will have to enter on the next screen.
Verify your identity: Before you can make your transfer you'll need to verify your ID with Wise. To verify your account you'll need at least a photo ID and proof of address. For the photo ID a picture of your passport or driver's licence is fine.
Set up your transfer: You'll first need to select how much you want to send, to which currency, and which payment you want to use. Remember, the bank transfer payment method is the cheapest option.

Enter the recipient's details: You'll then need to enter the details of your recipient's bank account. The exact details you need can vary depending on which country you're sending money to. For the bank details you need for some of the most common transfer countries (including Australia, India and the UK), check out our guide to international money transfers.
Complete your transfer: Next, you will have to make your payment in order to make your transfer. You will have the opportunity to review all the details of your transfer before you confirm and complete it.
Track your transfer: You can track the progress of your transfer through your online Wise account. Wise will also email to notify you of the completion of key steps in the process, such as when Wise receives your payment and when the recipient has got the money and the transfer is complete.